Lowest prices for Carport, Metal Carports, Storage Sheds, Smoke Shelters, Garages, RV Shelters, Boat Covers. Serving 13 States for 18 years

Disk Works of South Jersey
Metal Carports, Storage Shelters, Smoke Shelters,
RV Covers & Garages for Sale
Todays Date/Time
Quick Note: A 10% deposit is all thats required to place your order.
OUR MISSION:
Is to provide affordable buildings for your storage needs that meet or exceed your local & state building codes and requirements
We sell in the following States only: New Jersey, South Eastern PA, Maryland, Virginia, Delaware, North Carolina, South Carolina, Georgia, Alabama, Northern Florida, Tennessee, Mississippi & Kentucky
Use the links below.
Metal Carports, Garages, Sheds & Storage Buildings
Fall 2023
..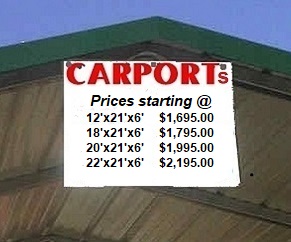 Metal Carports, Garages & RV Shelters any size you want them.
ALL METAL Carport, RV Shelter, Storage Building, Boat Cover, Crop Shelter
ALL METAL Equipment Shelter, Winter Salt/Sand Storage, Patio Cover, Pool Cover, Picnic Shelter
ALL METAL Camping Shelter, Garage, Tractor Shelter, Animal Shelter, Smokers Canopy = Happy Employee's
FREE delivery, set-up / installation & anchoring
on your level ground in most States
Prices shown subject to change without notice, always Get@Quote
Use this page to pick your style & size (W'xL'xH')
also see color chart for sheeting & trim
Most options are available in all States we service.
Use links below for your State.
Questions ? E-Mail us or use cell number below
TEXT your questions 24/7 to 609-932-4471 please
include question, State & Zip Code



Styles Available: Standard Bentbow, Standard A-Frame, Barnstyle, Sidewinder & Custom RV Shelters
Standard Bentbow & A-Frame Carport Sizes
12' w - _18'w -_20'w - _22'w -_24'w

12x21 | 18x21 | 20x21 | 22x21 | 24x21
12x26 | 18x26 | 20x26 | 22x26 | 24x26
12x31 | 18x31 | 20x31 | 22x31 | 24x31
12x36 | 18x36 | 20x36 | 22x36 | 24x36

12x41 | 18x41 | 20x41 | 22x41 | 24x41
Standard 2 1/4"x2 1/4" Square, 14ga. High Strength Galvanized Framing
Leg height from standard 6' up to 12' high.

FREE Anchoring: On the Ground, cement or Asphalt.
For a CUSTOM length not listed we sell the next size up and can cut it down to meet your needs. "Note: Custom Work add $200.00"

For a length longer than 41' we connect sizes together to meet your needs.
COLOR SAMPLES ARE APPROXIMATE & MAY VARY FROM ACTUAL MATERIAL














CARPORT, GARAGE & RV SHELTER GUIDE:
Availabe for free delivery, assembly & standard anchoring in the following States: (unless otherwise noted)
NORTHERN STATES: Delaware, Maryland, New Jersey, South Eastern PA.. Manufactured by: Newmart Builders, VA
STATES of: North Carolina, South Carolina & Virginia..... Manufactured by: Newmart Builders, VA
SOUTHERN STATES: Manufactured by: R&B Metal Structures, GA
These steel structured buildings CAN BE engineered to meet or exceed Local & State building codes and requirements.
---
STANDARD CARPORT / GARAGE OPTIONS:
(2 1/4" x 2 1/4" 14ga. square metal framing)
Closed-In both Sidess, Close in one end or Both
FULL GABLES on both ends or just one if you wish
EXTRA HEIGHT, Leg Height 7'-12'
EXTRA SHEETS AVAILABLE
34"x80" inch WALK-IN DOORS
24"x36" WINDOWS w/screen
ROLL UP DOORS (8'x8' up to 10'x10') also special 6'x6'
EXTRA ROOF BRACING AVAILABLE
Premium Trim for Finished Appearance
Covering: 29 Gauge Steel with baked enamel finish
WIND and SNOW CORNER & ROOF BRACING AVAILABLE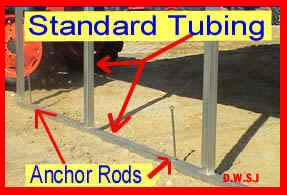 Standard BentBow Style
A-Frame Style
A-Frame Pricing (available in most States)
---
Carports, RV Shelters & Garages over 24' upto 40' wide see below.
E-Mail us for a quote. We can do whatever you want done.
CUSTOM RV & CARPORT OPTIONS:

TALLER and STRONGER ALL METAL CUSTOM CARPORTS / GARAGES / RV SHELTERS: using 14ga. metal framing
Structures from 10'- 40' wide open span & legs/side walls from 7' to 12' high
Heavier high strength 14ga.Metal 2"x3" Framing: (much stronger)

Widths up to 40' feet wide: (clear open spans, no center supports)

Lengths 21', 26', 31', 36' & now 41' long: (for longer buildings we can connect 2 together)

Heights from 7' to12' walls: Corner/Wind braces are required on legs 8' high + or Carports 18' wide +

WIND/SNOW - ROOF BRACING required on 18' wide or wider

LARGER 12'X10' or 12'x12' ROLL-UP DOORS available.

ANCHORING: Standard Ground, Cement or Auger type high wind anchors can be installed.
---
QUICK NOTES: FYI
a. Roofing angle raises 3" per foot. ie: 20' wide carport w/6' legs, center peek 30" higher than legs heigth. = 8 1/2' center /\ heigth
b. Roof load / Dead weigth rating 30 lbs. per sq. ft.
c. Wind Rating: standard anchoring rated at 80mph,
d. High Wind Auger Anchors: 10' spacing along sides rated @ 110mph
e. Cement Anchoring rated @ 110mph winds.
f. Pad size recommened 1' (12" wider & Longer than carport size)
g. Cement needs to cure/set-up 28 days before anchoring is done.
h. Carport Total Weight: aprox. 5lbs per sq.ft. (ie: 12'x21' = 252 sq.ft. or 1,260 lbs
i. We DO NOT attach to an existing structure.
SEE OPTIONS & COLOR CHART FOR SOUTHERN STATES:
Styles Available: Bent Bow, A-Frame, Barn Style, Sidewinder

We accept Pay-Pal for the 10% deposit when placing an order,

the payment web address is: webmaster@diskworks.com

TEXT your questions to: (609) 932-4471, please include your questions, State & Zip Code
Call & leave a message we will get back to you as soon as we can.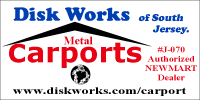 Back to Home Page

Copyright © 2003-2023, Disk Works of South Jersey
ALL RIGHTS RESERVED