Georgia - Carports, RV Shelters, Sheds, Carport Garages, Carport Buildings, Carport Type Storage Shed & Shelters

Disk Works of South Jersey
Authorized R & B Metal Structure
Dealer # I-001
Todays Date/Time
OUR MISSION:
Is to provide affordable buildings for your storage needs that meet or exceed your local building codes and requirements
Carports, RV Shelters, Metal Sheds
Garages & Storage Buildings
Georgia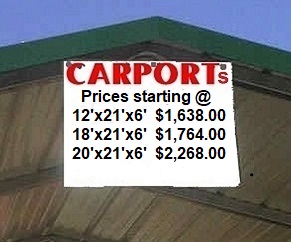 Carports, any size you want
ALL METAL: Carport, RV Shelter, Tractor Shelter, Boat Cover, Crop Shelter
ALL METAL: Equipment Shelter, Salt/Sand Shelter, Patio Cover, Pool Cover, Picnic Shelter
ALL METAL: Camping Shelter, Smokers Shelter, Canopy, Garage, Storage Building - Shelter
Delivered, set-up & anchored on
YOUR LEVEL GROUND


Contact Note: E-Mail is checked twice a day
QUESTIONS: carport@diskworks.com
We can quote a price or answer any questions. THANKS
CARPORT GUIDE: CLICK ON YOUR STATE
Available in: Alabama, Georgia, Florida, Louisiana, Tennessee & Mississippi.
Sorry, we do not offer R & B Metal Structure Carports in States not listed above.
12' w - _18'w -_20'w - _22'w -_24'w
12x21 | 18x21 | 20x21 | 22x21 | 24x21
12x26 | 18x26 | 20x26 | 22x26 | 24x26
12x31 | 18x31 | 20x31 | 22x31 | 24x31
12x36 | 18x36 | 20x36 | 22x36 | 24x36
12x41 | 18x41 | 20x41 | 22x41 | 24x41

Standard legs 5', 6', 7', 8', 9', 10', 11' or 12'
Standard: 2 1/4"x2 1/4", 14ga. Galvanized Metal Framing & 29ga. sheeting
STANDARD CARPORT OPTIONS
Closed-In Ends, Sides or Both
FULL GABLES
EXTRA HEIGHT, Leg Height 6'-12'
EXTRA SHEETS AVAILABLE
34"x 80" inch WALK-IN DOORS
24"x36" WINDOWS
ROLL UP DOORS (8'x8', up to 10'x10') also special 5'x7'
EXTRA BRACING AVAILABLE
Premium Trim for Finished Appearance
Covering: 29 Gauge Steel with baked enamel finish
WIND BRACING AVAILABLE
All these steel structured carport/buildings/shelters
CAN BE engineered to meet or exceed local codes and requirements
---
9 Different Carport Sheeting colors & Trim Colors to Choose from.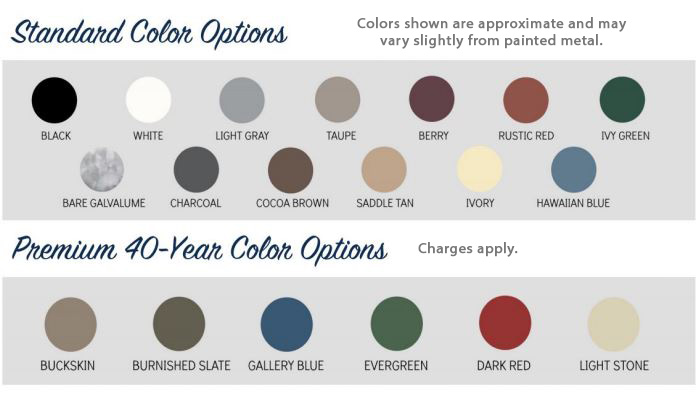 Standard FREE anchoring is metal rods driven into the ground. At an EXTRA COST we have High Wind Auger anchors (rated 110mph winds) available for ground anchoring, spacing is every 10' along the sides. Cement anchoring is available too.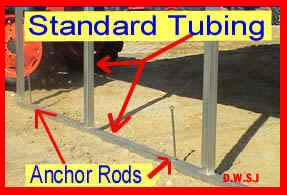 ---
CUSTOM: CARPORTS / GARAGES / RV SHELTERS:
CUSTOM STRUCTURE SIZES & OPTIONS:
12'w - - 18'w - -20'w - -22'w - -24'w - -26' w - 28'w - -30'w- -36'w - -40'w
12x21 | 18x21 | 20x21 | 22x21 | 24x21 | 26x21 | 28x21 | 30x21 | 36x21 | 40x21
12x26 | 18x26 | 20x26 | 22x26 | 24x26 | 26x26 | 28x26 | 30x26 | 36x26 | 40x26
12x31 | 18x31 | 20x31 | 22x31 | 24x31 | 26x31 | 28x31 | 30x31 | 36x31 | 40x31
12x36 | 18x36 | 20x36 | 22x36 | 24x36 | 26x36 | 28x36 | 30x36 | 36x36 | 40x36
12x41 | 18x41 | 20x41 | 22x41 | 24x41 | 26x41 | 28x41 | 30x41 | 36x41 | 40x41
CUSTOM Leg heights from 7'-12'

Made from 2"x3", 14 ga. galv. Metal Framing

TALLER and STRONGER ALL METAL


Heaver 2" inch x 3" inch Metal Tubing: (much stronger metal strenth)

Widths 10' feet to 40' feet wide: (clear open spans, no center supports)

Lengths 20', 24', 28', 32', 36' & now 41' long: (for longer buildings we can connect two together)

Heigths from 7' to12' walls: (corner wind braces required on legs 9' & taller)

WIND CORNER BRACING available & Augor type high wind anchors.

Quick Quote:

---
QUICK NOTES: FYI
a. Roofing angle raises 3" per foot. ie: 20' wide carport w/6' legs, center peek 30" higher than legs heigth. = 8 1/2' center /\heigth
b. Roof snow load rating 20 lbs. per sq. ft.
c. Wind Rating: standard anchoring rated at 80mph,
d. High Wind Auger Anchors: 10' spacing along sides rated @ 110mph
e. Cement Anchoring rated @ 110mph winds.
f. Pad size recommened 1' (12" wider & Longer than carport size)
g. Cement needs to cure/set-up 28 days before anchoring is done.
h. Carport Total Weight: aprox. 5lbs per sq.ft. (ie: 12'x21' = 252 sq.ft. or 1,260 lbs
i. We DO NOT install on Docks near water.
Go to: Get@Quote
Go to: Alabama, Metal Carport page
Go to: Georgia, Metal Carport page
Go to: Florida, Metal Carport page
Go to: Tennessee, Metal Carport Page
Go to: Louisiana, Metal Carport Page
Go to: Mississippi, Metal Carport page
Back to: Carports for Northern States

Quick Quote:E-Mail us with your size needs
Note:
E-Mail is THE QUICKEST & is checked twice a day, even when we are working.
If you call and leave a message we will get back to you as soon as we can.
QUESTIONS: carport@diskworks.com
(609) 932-4471

We accept Pay-Pal for the 10% deposit when placing an order: (USE PAY-PAL LINK)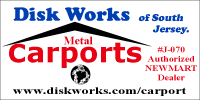 Back to Disk Works Carport Home Page
Copyright © 2003-2013, Disk Works of South Jersey
ALL RIGHTS RESERVED