WHY A METAL CARPORT ?
Carports, Sheds, Garages, Meteal Buildings, Storage Shed & Shelters

Disk Works of South Jersey
Why buy a Metal Carport ?
Cover anything you can put under the carport
or anything you can put the carport over top of

Anyone who has experienced getting into a car that's been sitting in the summer sun all day or overnight in the winter appreciates the benefits of a carport, they can save time on frost, snow and ice removal during the winter, and keep you dry while loading and unloading during rain and snow. Metal carports can be added to any private residence or commercial site. They provide severe weather protections for cars, trucks, boats, recreational vehicles, farm equipment and also provide sunlight UV protection.
NOTE: Automobiles are often one of the largest investments people make why not provide protection from elements, most single metal carports used just to cover a CAR or TRUCK can be purchessed for under $1,250.00 complete (delivered, installed & anchored)

You can get a single or double carport, with a length up to 41' long or longer and combine your carport with a shed (Combo Carport Style, 4 walls closed in) with access roll-up door / walk-in door for tool storage at your finger tips. You could add a carport to cover your patio for those afternoon picnics. Carports can also be used to shade your animals on hot days, act as a sand box cover or shade the barbeque area.

Metal carports are a good investment because their heavy-duty components make them much more durable than wood or plastic. This means they will be longer lasting, need less care and be more likely to survive severe weather events.
NOTE: In some areas having a metal carport can also reduce your insurance premiums for your car.

Metal carports are constructed in varied gauges of metal depending on the strength needed to protect against wind and snow. Metal buildings are economical and easy to maintain. They can be ordered in standard sizes or custom designed to fit any application and can be modified to meet any Local, State or Federal building codes or standards.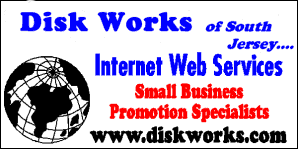 Text questions to 609-932-4471, please include State & Zip Code
(Voice Mail): (609) 932-4471 & Leave message

We accept Pay-Pal for our products & services, the payment web address is: webmaster@diskworks.com

Back to Home Page

Copyright © 2003-2020, Disk Works of South Jersey
ALL RIGHTS RESERVED