REFER@FRIEND
Carports, Sheds, Garages, Meteal Buildings, Storage Shed & Shelters

Disk Works of South Jersey
Refer@Friend
Refer your co-workers, friends & family
You can make some money.
This is for customers of Disk Works of South Jersey ONLY
we can not cover orders for Carports/Garages
placed by other Dealers in our selling area.
If a friend or family member asks where you bought / purchessed your
Carport/Garage you can make some money refering them to our company.
You must be a past or present customer of Disk Works of South Jersey to
take advantage of this offer.
If your referal leads to a purchess of one of our carports, garages
or shelters you will recieve a American Expesss Gift card.
If they spend upto $1,500.00 = you get a $25.00 card
If they spend $1,501.00 or more = you get a $50.00 card
Please note: We have to look up your past purchess from Disk Works of South Jersey
so we need your Full name, address, state, zip code and aprox. month & year you ordered
your building. Also include the name and address of the friend or family member you are
refering.
Only after they take DELIVERY of their purchessed
Carport/Garage will the gift card be sent to you with a
Thank You from Disk Works.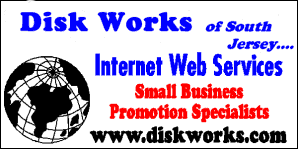 (Voice Mail): (609) 932-4471

We accept Pay-Pal for our products & services, the payment web address is: webmaster@diskworks.com

Back to Home Page

Copyright © 2004-2006, Disk Works of South Jersey LLC
ALL RIGHTS RESERVED
.