Web Page Design & Non-domain Hosting, URL Submission Service.

Todays Date/Time
News
OUR MISSION:
Is to provide affordable Web Page Design, Hosting & other related services.
We design Personal web pages and Small Business web sites.
We do not offer the most dynamic web pages, just pages that are easy to navigate through so your customers / visitors can find the information or products they are looking for in the least amount of time.

We Cater to Small Business
"click to enlarge"
Reflection : The hallmark of America is our ability to continue to press on in times of adversity and tragedy with faith and the resolve that out of our challenges will come our triumphs.
Our finest triumph is the triumph of the American spirit that leads us individually to step forward with prayers, compassion and assistance in times of need. Our history is witness to this.
May God bless our America and sustain our spirit.
Our thoughts and prayers are with the victims and their families.
The staff from D.W.S.J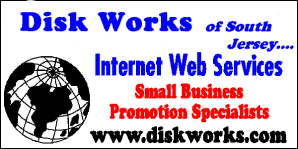 Our Services:
Find your way around


Page Creation & Hosting Prices

Phone (Voice Mail): (609) 932-4471
Disk Works of South Jersey
187 Clayton-Aura Road
Glassboro, New Jersey 08028-3404

We accept Pay-Pal for our services, the payment web address is:
webmaster@diskworks.com
| | |
| --- | --- |
| Use Pay-Pal to pay anyone on the Internet with a valid e-mail address. | |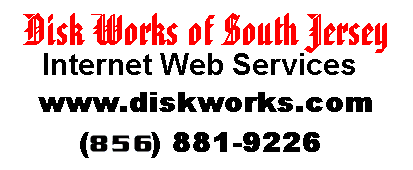 Copyright © 1996 - 2002 , Disk Works of South Jersey
ALL RIGHTS RESERVED